Meet Dr. Priya Singh
Chiropractor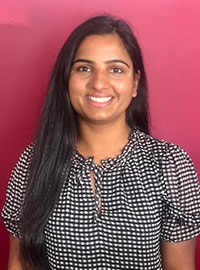 A healthy outside starts from the inside." Robert Urich
Priya and her family migrated to New Zealand eight years ago. She always knew that she wanted a career that was focused on helping people, to not only function better, but to positively impact the way they lived their everyday life. After attending a college career fair, she knew chiropractic was how wanted to achieve her goal, so she enrolled at the New Zealand College of Chiropractic, and after five years, gained her chiropractic degree.
Priya has a proud family background of farmers and athletes; that is why she knows the importance of well-functioning spine and nervous system.
She believes that daily stresses that the body cannot properly adapt to, impact the body's ability to function at it's best. Chiropractic care can really play an important role in helping the body restore optimal function and balance the impact that stress has on our health and happiness.
When Priya is not serving her community, or sharing time with her family, you'll find her out and about exploring the outdoors and hiking with her friends. She has been living in south Auckland for the past 8 years and is really excited to serve with the Chiropractic Edge family.
Ready to get started? Contact us to arrange a time so that we may meet you and discuss your particular health issue or call (09) 239 2837.
---
strengthen your body • nourish your mind • love your life
Helping families and the community in Pukekohe and to achieve vibrant health with excellent chiropractic care.